Start Date:
10:00am, 28th April 2021
End Date:
11:00am, 30th April 2021
Location:
Available Online, Access from Anywhere, Access from Anywhere
Country:
Access from Anywhere
On Wednesday April 28, the IPBN hosted via Zoom a series of conversations with two key players in the investment sphere as it pertains to Lisbon and its start-ups. The focus was on the general growth expectations from innovators in the city, Portuguese tech development, its innovation scene, and how it can assist in an economic rebound Post-Covid.
And on Friday April 30, we welcomed new IPBN member Pedro Henriques, CEO from BRIDGE IN as he shared his views on Portugal's tech sector and his experience in opening offices and hiring talent in Portugal.
You can read about each conversation and more here and watch the conversations in our YouTube channel.
The program included the following events:

Wednesday, April 28
10h - 11h: A Conversation with Miguel Fontes, CEO Start-up Lisboa
Aoife Healy, Chair of the IPBN Board, did moderate the conversation with Miguel Fontes, CEO of Start-up Lisboa
regarding the new Criativo do Beato, Lisbon's innovation, creativity, and technology international hub. They went on to discuss potential partnerships between Portuguese and Irish startups and tech hubs.

17h - 18h: A Conversation with Alexandre Barbosa from Faber Ventures
Mario Gago, Co-founder and Software engineer at Pink Room and IPBN Board member moderated the conversation with Alexandre Barbosa from Faber Ventures who presented his wealth of knowledge on start-up funding including investments in Portugal along with the Southern Europe unique value proposition and the next generation of entrepreneurs. Particular emphasis was made on the hot spots in a Post Covid economic rebound.
Friday, April 30
10h - 11h: A Conversation with Pedro Henriques, founder of Bridge IN
Diogo Cruz, Project Director at Invest Lisboa and IPBN Board member spoke to Pedro Henriques, founder and CEO of BRIDGE IN, about his views on the previous April 28th conversations and hiring in Portugal as it relates to the recent AICEP report published by Invest Lisboa. Theu covered tapping into cross border talent pools, the spike in tech hub job postings in Ireland and Portugal, and how they reacted to aggressive market freezes and COVID-19.

The event was free and open to everyone.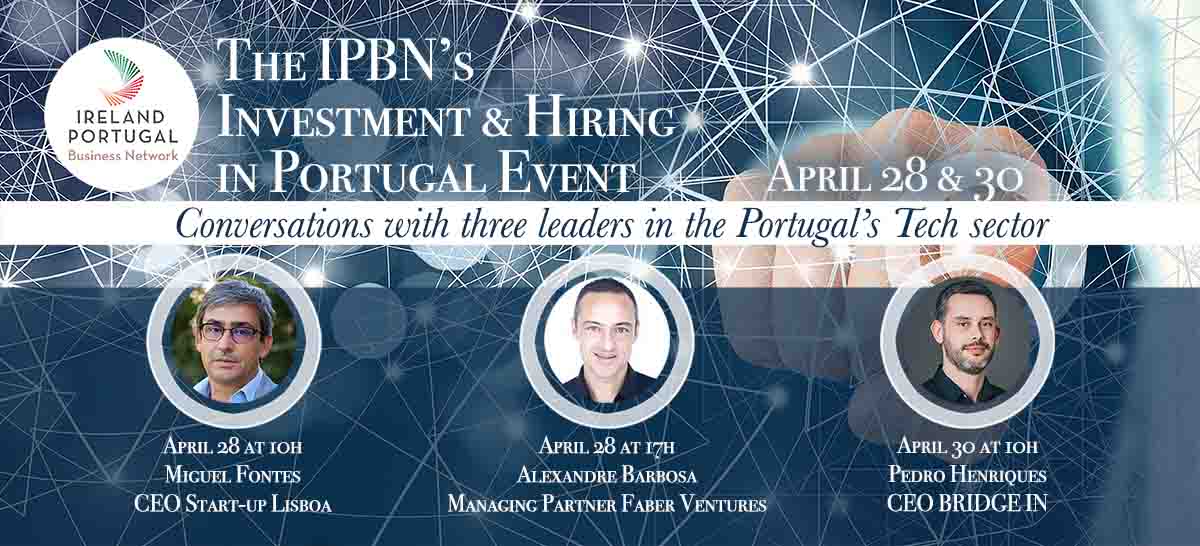 Sold Out